McMINNVILLE, ORE. 05 SEPT. 2019—Yamhill Community Care, a Coordinated Care Organization serving Oregon Health Plan members in Yamhill County and parts of Clackamas, Washington, Polk, Marion and Tillamook counties, has been recognized as a top-performing CCO for health system transformation in Oregon. The organization met improvement targets on which conditional funding from Oregon Health Authority is based, resulting in 100 percent payout of "CCO incentive metric dollars" for the fifth consecutive year. Additional measures were also met, resulting in further payouts for a combined total of $5.5 million.
"These targets include activities like increasing rates of health screenings, ensuring children are up-to-date on immunizations, and making sure higher-risk people get appropriate care quickly," says YCCO President and Chief Executive Officer Seamus McCarthy, PhD. "Efforts like these improve community health by catching potential diseases and risk factors before they become more problematic."
The payout YCCO receives for meeting these targets is used locally to support improvements in patient care that will help meet other metrics in the future. YCCO reinvests these funds back into the community through programs like the Service Integration Teams, which address local barriers like helping individuals pay rent or repair a vehicle. The funds also support YCCO's Community Prevention and Wellness Fund, which invests in social determinants of health like food insecurity and supports prevention programs in schools.
YCCO also works with healthcare providers by using these funds to invest in clinical upgrades and to develop strategies to improve care. "Working with local providers, YCCO made huge improvements around timely health exams for foster children, from 33.3 percent of children involved with DHS receiving timely check-ups in 2014, to 69.4 percent in 2018," says McCarthy.
YCCO also saw improvements in the colon cancer screening rate of its members, from 15.7 percent to 55.5 percent over five years. This was achieved by working with local clinics to increase outreach to patients due for screenings, to include screening questions in regular appointments and to distribute screening kits.
Since YCCO's inception in 2013, Adolescent Well Care visits have increased from 24.8 percent to 60.5 percent in 2018, which is the highest level in the state, and developmental screenings for children have increased from 16.8 percent to 75.5 percent. This means that more people are seeing their doctors and taking control of their health.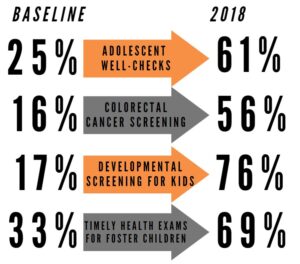 "Meeting these goals allows us to continue to reinvest in our community and make a direct impact on the health and well-being of its residents," says McCarthy. "As with previous years, these dollars will support healthcare innovation so patients can continue receiving coordinated, streamlined and whole-person care and complement our other investments in prevention, wellness and early childhood."
Quality improvement metrics for every CCO in Oregon can be found at www.oregon.gov/oha/. To get involved with YCCO projects and make a difference in the health of the local community, residents may contact Emily Johnson at ejohnson@yamhillcco.org or 503-376-7428.