About Us
Yamhill Community Care (YCCO) is a Coordinated Care Organization (CCO), which focuses on health care and prevention. Our network of all kinds of health care providers (physical, dental and behavioral health) has agreed to work together. Members receive health care coverage under the Oregon Health Plan (Medicaid).
CCOs let you keep your health care local.
Want to learn more about Yamhill Community Care (YCCO)?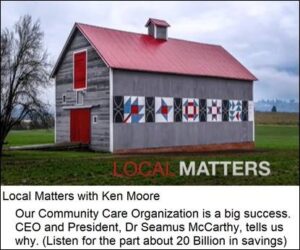 Listen to YCCO CEO and President, Seamus McCarthy, talk about why our Community Care Organization works.

YCCO and the Coalition for a Healthy Oregon (COHO) have partnered to share the success and future goals of CCO's across the state. 
Watch Yamhill Community Care, An Oregon Success Story, to learn more!
Our work in your community
We're a non-profit organization. That means all profits go back to local health and wellness programs. Social support services and agencies receive our grants. We've funded food and housing, rides to appointments, help with childcare, and support for parents.
Vision and Mission
Our vision
A unified healthy community that celebrates physical, mental, emotional, spiritual, and social well-being.
Our mission
Working together to improve the quality of life and health of the Communities we serve by coordinating effective care.
These 10 guiding principles keep our standards high
Health Education
Accountability
Innovation
Evidence-Based Clinical Care
Transparency
Shared Responsibility
Member Empowerment
Wellness Promotion
Equity
Stewardship
This is our story
From its beginning in 2012, Yamhill Community Care has been a community-based, grassroots organization. When the call for CCO applications went out, the community decided it didn't want an outside agency coming in and making choices for those who actually live here. Instead, local health leaders came together and chose to form their own small CCO.
CCOs are designed to return control to the members, and YCCO has continued to remain true to that vision.
YCCO is still led by the people in the community. Its governance and advisory boards are made up of a wide range of local sectors, including representation from area clinics and hospitals, local government, school districts, early childhood education and childcare, and Oregon Health Plan members.
YCCO is also the only community care organization in the state to be awarded an Early Learning Hub by the Oregon Department of Education's Early Learning Division. This means that not only are physical health, mental health, dental health, and specialty care aligned, but services for young children and families are becoming integrated as well.
Early Learning Hub
YCCO works with other agencies  in the area to make sure its members have all the support they need, including social support, care coordination, transportation, and access to affordable nutritious food.
YCCO is committed to equitable care
We are committed, every day, to offering equitable care for members. This means understanding who is receiving care and who isn't, where the service gaps are in our community, and how members' specific health needs can be met in the best way for them. It also includes offering a range of supports, like language interpretation, accessibility measures, and working with clinics and hospitals to improve their ability to serve all kinds of patients.