Emergency Childcare is available for Essential Workers
If you are an Essential Worker in need of Emergency Child Care, programs have been put in place to ensure you have access to quality child care during this time of need. The information on this page will help you to learn more about how to access the programs available to you during the COVID-19 pandemic.
Visit the Oregon Department of Early Learning Division website to review more in-depth information about the new Emergency Child Care program for Essential Workers as well as the newly updated Employee Related Daycare (ERDC) assistance program.
If you have any questions, please contact us at info@yamhillcco.org.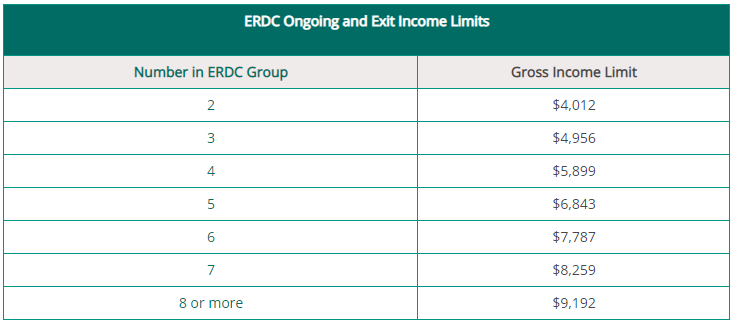 *Please note: There is Employee Related Daycare (ERDC) assistance that is available to eligible families at or below 85% of the State Median Income. To learn more about your eligibility, click here to read the newest press release on this topic from DHS. Below is a chart that shows the income levels that need to be met in order to qualify.
There are many different jobs that are considered essential, Click Here to view a full list of Essential Worker job titles as shared by the Oregon Department of Education Early Learning Division. 
Some examples of Essential Workers include:
First Responders
Emergency Workers
Health Care Professionals
Critical Operations Staff and Essential Personnel
Other individuals working outside of the home
To find out about the available Emergency Child Care programs in your area, please contact 211 through these options:
 Call: Dial 211 and listen for the seeking child care prompt; a live consultant will respond, or if all of them are busy, parents can leave a message with a return call in less than 24 hours.
Text:  keyword "children" or "ninos" to 898211 (TXT211)
Email: children@211info.org
Web Search: Find Child Care Oregon 
What happens next?
After you contact 211, you will receive 3-12 Emergency Child Care Programs that closely match your requests. Please note that the referrals will include quality child care indicators, these indicators are not meant to be seen as recommendations.
After you receive your list, it is your job to call the providers that best fit your needs for Emergency Child Care.
Thank you for wanting to help Essential Workers with their child care needs! Please visit the Oregon Department of Education Early Learning Division website to find out how to become an Emergency Child Care Provider.